About Supabets
Over the last decade, Supabets has established itself as one of South Africa's most prominent online betting sites. The brand was created at the end of the 2000s and has since grown to become one of the most powerful online betting companies in South Africa.
Supabets is a Bookmaker Licensee approved by the Mpumalanga Gambling Board, making it 100% legal to use for internet betting in South Africa. It will not be lawfully permitted for operators to take bets from South African sports fans unless they obtain a relevant license from one of the SA boards.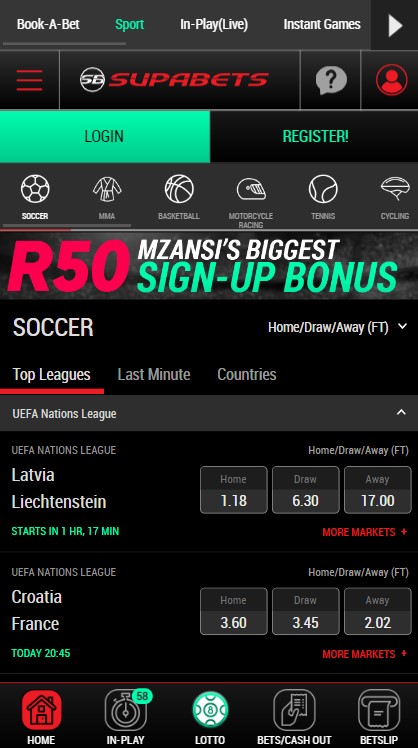 Supabets is one of South Africa's most innovative online bookies. In October 2020, Supabets revealed that it had signed a contract for premium virtual sports products with Global Bet Virtual Sports, making it the first South African site to do so.
"The South African gaming market, which is recognized for its tight rules, has significant potential and has yet to be fully tapped," according to Daniel Grabher, the CEO of The Global Bet: "I'm quite confident that our success story will continue in this important market, not least because we picked the perfect business local partner."
Supabets, which also operates in African countries including Nigeria, Zambia, Ghana, Tanzania, and Zimbabwe, has now integrated Playgon's live dealer technology on its site.
Having already established itself as one of Africa's leading internet sports betting companies, the pair of measures is expected to take Supabets from strength to strength in the future years. The addition of new goods is always a smart approach to attract consumers, and this has been Supabets' modus operandi for some time.
Sports Review of Supabets
Supabets has a few alternative betting choices to select from, but it is still the sportsbook that draws most of its traffic. There are several excellent sporting events to choose from here, although esports is one of the most notable omissions.
Supabets does not have any horse racing or greyhound betting, which is surprising given how popular king's sport is in the country. Because of this, those who want to bet on racing may be better off creating an account with a rival firm such as Hollywoodbets.
Supabets has a red and black theme, which is reflected in the sportsbook's logo. The most popular sport to bet on at Supabets is football, with a cool red and black design. Competitions from all over the world are included in Supabets' football gambling markets, including the Premier League and Champions League, but two of the main events here are the league.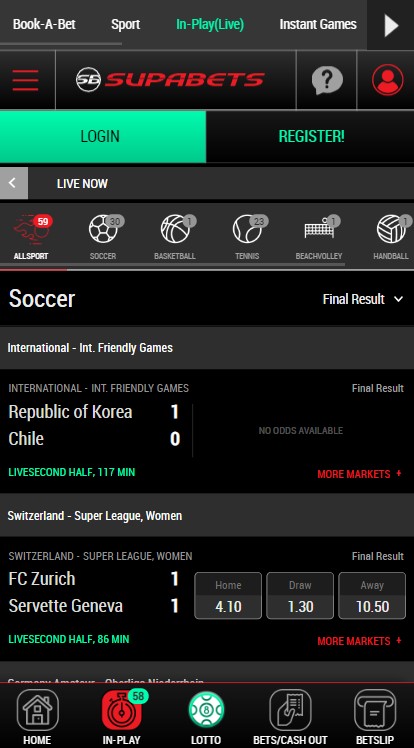 Among the most popular sports Supabets supports are basketball, golf, tennis, table tennis, and Formula One, with hundreds of distinct betting markets available within each of these. These days, live betting is on the upswing and in-play market for a variety of sports are accessible at Supabets.
There is a Supabets live betting visualization, however the amount of data and analysis available compared to other leading South African sports betting sites is relatively limited.
Supabets has a wide range of bonuses available to use, including cash out. This is not always an option at South African sports betting websites, therefore cash out is a big +. Not everyone wants to use cash-out because it reduces their earnings; nevertheless, having this choice will undoubtedly be appreciated.
South African sports betting sites like Supabets compete against each other for new clients by offering incentives. The R50 no deposit welcome bonus is a great incentive to get people to create an Supabets account, as well as a policy that reimburses players if only one leg of the bet fails to win.
Supabets is one of the gambling sites in South Africa that has a referral program. Users who can get someone to create an account for them will receive a R50 bonus. The Supabets promotion features a prediction game with a R25,000 prize pool, as well as a Supabets VIP membership program that may be joined.
If consumers spend a minimum of R75,000 on the Supabets sportsbook and play the site's lucky numbers game for a month, they will become VIPs. Alternatively, players may join if they spend a minimum of R250,000 on all other games during the month.
Supabets gives Vip status to certain lucky individuals. A 10% deposit bonus on each deposit made into an account on the site is offered, as well as private WhatApp access to bookmakers. VIPs also get special perks like early access to deals and new goods, enhanced limits, and tickets to particular sporting events.
Supabets Review
Supabets South Africa is a really interesting site to play on. It has a number of sports betting markets and bonuses, to boot. We were given a substantial R50 bonus as part of the Supabets Review when we joined up. You may also get a bonus using the Supabet code!
The live games section of Supabets is also well-presented. The majority of the live betting sports and markets have great odds. The livescore is trustworthy and up to date. The Supa Picks jackpot is a steal while still providing the potential for a win. Supabets has a lottery called Supa Numbers as well.
What is Supabets Promo Code?
Supabets provides a lot of incentives and special discounts. This incentive is available to all newcomers. It will be credited to your account the next day, at 7 a.m! If you meet the wagering requirement, you can withdraw the bonus.
The bonus is generally kept in a separate wallet and cannot be withdrawn. If you fulfill the wagering requirement, any remaining amount on your bet will be transferred from the bonus wallet to the real cash wallet, allowing you to withdraw it. There's also a second condition: you must make a qualifying deposit before withdrawing funds.
How to Register at Supabets
Creating an account with Supabets South Africa is a simple process. It only takes a few minutes to set up an account and start claiming the offers or betting on your favorite sports and teams.
To join Supabets, visit the website and follow the instructions. To go to Supabets, click or tap the Register Button in the upper right corner of the screen. You will be taken to a new page after you click or tap the Register Button in the top right corner of the screen.
The registration form is quite simple. You'll need a unique username and password to access the site, as well as proof of your identity. You'll be required to provide your email and phone number for contact information.
They will also send you a text message or email in order to double-check your contact information.
The true name, ID number, or Passport number are necessary since they are used for FICA reasons. Because of FICA, it's important to verify that all bettors at South African betting sites are real people and truly reside in the country. This aids in the prevention of financial crimes or exploitation.
We also looked at the login procedure after creating an account on Supabets during our review. The process is straightforward: simply input your username and password, then press the button. If you forget your password, you'll have to reset it.
However, if you use the same email or phone number as before, you may simply follow the Forgot Password link and type in your Email or Phone Number. You'll be sent a password reset link via email.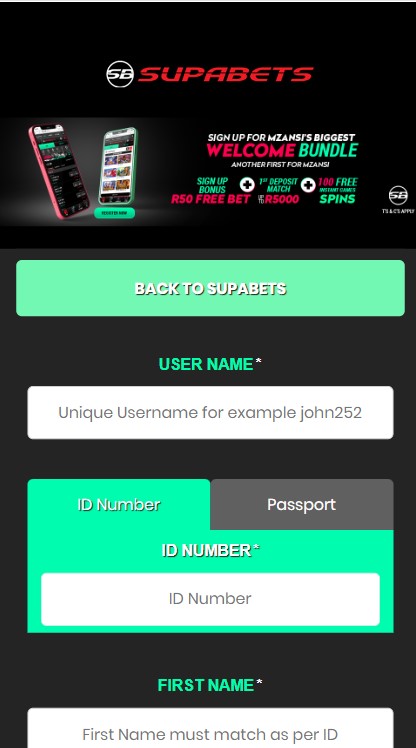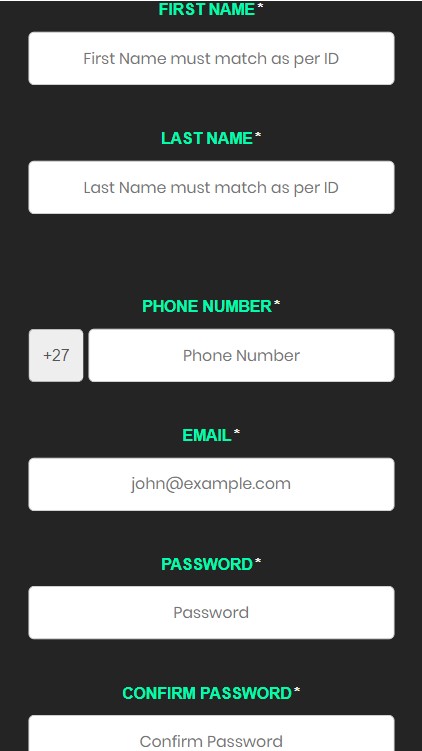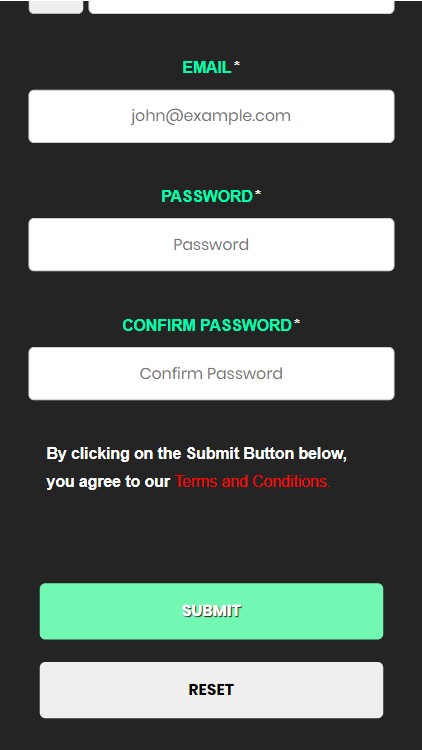 Mobile App of Supabets
The SupaBets mobile app, which will enable bettors from all across the world to wager on their smartphones, is the newest addition to the betting firm's arsenal. The benefit of this software is that it allows you to place bets regardless of where you are. All you have to do is download their Android, Windows, or iOS app and start placing your sports wagers all over the world. This feature is one of our favorite parts about SupaBets, and we believe it will play a significant role in helping people win big money in the long run.
Depending on how you look at it, this betting site's mobile-friendliness may be viewed as a disadvantage or an opportunity. Because to the advantages it provides, we consider it to be essentially a disadvantage. What happened to excellent customer service by mail or phone, for example? The solution is straightforward: the internet has revolutionized everything and SupaBets isn't the only business catering to bettors online. Furthermore, there are several offline casinos open these days that we must acknowledge.
Sign Up of Supabets
To join SupaBets and sign up, go to their website and click on the "Join now" button. The next step is to create a username and password for your account. After you've completed this information, log in and explore their sportsbook page to start placing your bets. Before you can deposit money during a live match, you must first deposit funds into your account.
Sports Betting
SupaBets' sports betting platform is the finest we've ever seen. Thanks to their low odds and high payouts, making cash is a snap. It's no surprise that so many individuals are banking big chunks of money on sporting events at SupaBets nowadays.
SupaBets also allows you to bet on casino games at any time. They've also added a lot of new games, which means there's sure to be something you'll enjoy. When it comes to betting, the site provides a lot of variety, and you can wager on your favorite sport.
SupaBets is one of the most successful betting businesses in the world. Everything about its operations is simple and effective, but we believe it could do better in a few areas. Their appearance isn't bad, but it could still use some work because it doesn't correspond with their name at all (to us). Overall, we feel that SupaBets is a fantastic firm deserving of your business. We've decided to make a list of our top ten favorite sites for betting. They're one of the finest betting websites on the internet, and we know you'll love it there. We propose that you join with them immediately and start making large profits from sports wagers, casino games, and other possibilities.