Hollywoodbets is likely to be a very well-known name to all sports fans in South Africa. Hollywoodbets has been around for decades and is now one of the largest online sports betting sites in South Africa. The brand has operated in countries including Mozambique, Ireland, and the United Kingdom, building its global reputation little by little.
Hollywoodbets has hundreds of betting shops in South Africa, all of which have been approved by Gauteng's, Western Cape's, Eastern Cape's and KwaZulu-Natal's regulators as well as Limpopo and Mpumalanga. Hollywoodbets also has two branches in Maputo, Mozambique.

In South Africa, Hollywoodbets is recognized for sponsoring the Dolphins franchise of the KwaZulu-Natal province, which plays its home games at the Kingsmead Cricket Ground in Durban.
The makers of Hollywoodbets have launched a new desktop site that will appeal to a wide range of sports enthusiasts, and there's even a mobile app. We'll look at how Hollywoodbets claims to be South Africa's online home for sports and racing betting in our full review of the firm.
About HollywoodBets
The history of Hollywoodbets may be traced back to the 1980s. The organization was founded as a small South African publisher named Winning Form. Despite the fact that Hollywoodbets has grown, this firm continues to distribute race cards in South Africa and is still based there.
The history of Hollywoodbets begins in 2000, when the Hollywoodbets brand debuted. The firm was named after Hollywood Park Racetrack in Los Angeles.
In 2014, Las Vegas-based Hollywood Park Gaming began expanding into South Africa with a new property it opened in Durban's Springfield Park. It even sells real Durban curries through its dozen or so Hollywood Bunny Bar locations, but the business is placing a greater emphasis on its Hollywoodbets online gaming operation in the country.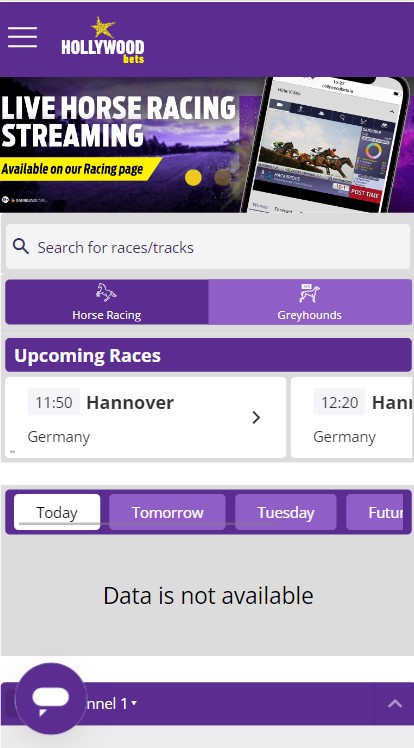 Like a number of other prominent betting companies all around the world, Hollywoodbets has formed partnerships and sponsorships in order to raise its profile. The firm has sponsored the English football club Brentford as well as Supersport's Phaka rugby show.
Adding in the Dolphins contract, as well as becoming the title sponsor of the SAFA National Women's Soccer League in May 2021, it is clear that this has been a successful strategy for the firm recently.
Hollywoodbets is a South African gambling company that is licensed by the Gauteng Gambling Board, as well as by the Limpopo and Mpumalanga Gaming Regulators. KwaZulu Natal's Gambling Board and Western Cape's Gambling Board have also licensed certain goods.
Hollywoodbets Sportsbook Review
South Africans will be looking for a top-rated online sportsbook from Hollywoodbets, with two decades of expertise in the field. Although the site's appearance might appear to be chaotic, it is more than enough for most users.
Hollywoodbets launched a new desktop site in an effort to fix these issues, but both a mobile site and the Hollywoodbets app are viable alternatives for betting while on the move. Users will have to get used to the vibrant purple color scheme.
Hollywoodbets is a firm with a long history of horse racing betting, so it's no surprise that it is one of the most popular sports to gamble on at Hollywoodbets. The Hollywoodbets blog, which is well worth reading for anybody who has an interest in the sport of kings, offers analysis and recommendations.
Football is one of the most popular sports at Hollywoodbets, along with cricket and rugby. Competitions from all around the world are accessible, with many distinct markets for major sports.
For example, at Hollywoodbets, the number of corners will be awarded in football matches, as well as numerous combination bets for major events. Live in-play betting is also available on certain top sports, but because it isn't as smooth as elsewhere, the operators of Hollywoodbets should try to improve things.
Esports is not yet listed among the betting options on Hollywoodbets. While other major South African sports betting sites, such as Betway, have embraced esports betting in a big way, this is a step that Hollywoodbets has yet to take – it could be left behind as a consequence.
Jika sports, on the other hand, will ensure that users are more than satisfied with the selection. Users wanting to place a bet quickly will appreciate the addition of buttons for the next race, as well as a link to Betfair's website, which is located above all of their links.
The majority of South African sports enthusiasts go to a certain online bookmaker due to its various promotions. Users on Hollywoodbets frequently have the opportunity to win top rewards, such as new automobiles.
The main promotion of interest is the Hollywoodbets Punters Challenge, which offers R10,000 in prize money for each race meeting at Greyville and Scottsville. The nice thing about Hollywoodbets Punters Challenge is that it's free to play.
If several legs of a soccer wager fail, bettors who deposit with Hollywoodbets may get their original stake back up to ten times when placing multiples at Hollywoodbets.
In terms of Hollywoodbets' margins, they are comparable to those at other top South African online bookies. Horse racing odds at Hollywoodbets may be decent, but their prices for other sports like football usually fall into the middle of the pack.

Hollywoodbets has earned industry acclaim, and it is worth noting that the site was ranked in the top ten on the list of Top 50 Gaming Sites Worldwide by iGaming Business Magazine in March 2019.
How to Register at Hollywoodbets?
It's simple to register at Hollywoodbets. While it is a little more complex than many other bookies, most people should have no difficulties.
To get your business up and running, you'll need to gather a few items. You'll need a phone number, an email address, and some sort of documentation, such as a passport or a national ID. Once you have one of them, you will be ready to complete the form.
Click on the 'Register' button in the upper right corner, then complete the form. Make sure you enter everything correctly. Then simply confirm your email and start playing. All of this takes just a few minutes, and you'll receive an R25 welcome bonus as a thank-you.
How to Deposit at Hollywoodbets?
As seen in our Hollywoodbets review, there are a plethora of payment options at this site. Not all gamblers have access to the same payment options. Some people simply want privacy and would prefer to use a third-party or prepaid card. Others may value simplicity and ease of use above all else, thus preferring to pay by credit card. Others might not have any other payment choices than a bank..
You're in luck, because whichever option you choose, Hollywoodbets has you covered. We investigated the many payment options and transaction delays in our Hollywoodbets review.
Hollywoodbets Deposit Methods
VISA and MasterCard credit cards, bank transfers, PayFast, Holly Top-Up Vouchers, Ozow (for international customers), OWNPAY (for Australian residents only), Zapper (only available in Australia), Peach Payments (available in New Zealand only)
The traditional approach to paying online is through credit cards and bank transfers. Credit card users who want to keep things old-fashioned will most likely do so. Meanwhile, there are also physical methods of paying. Customers may pick up Holly Top Up vouchers at local retailers. These coupons allow you to deposit a certain amount of money by entering the code provided on the back of the voucher.
If the funds have been removed from your bank account but have not yet reached your Hollywoodbets account, there may be a problem. You can email them at [email protected], or you can call +44 (0)800 553 9018 to talk to customer service.
Information about Hollywoodbets app for ioS
Hollywoйbet is ideal for internet users who enjoy playing online. It's similar to for and offline users since it allows you to access all of the useful services. You may place easy bets on the go, make deposits and withdrawals, as well as live betting.
You may only play the web version of Is there an IOS app? Only for iOS. There isn't a Hollywoodbets Official App for iPhone. As a result, the website works on a wide range of iOS tablets and phones. The fact that you don't have to download or install any files to utilize the Hollywoodbets Official App for iPhone doesn't imply you won't be able to take advantage of everything it has to offer.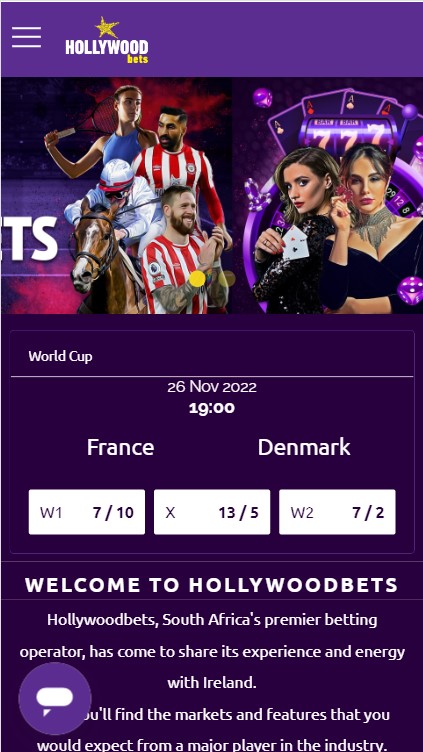 Hollywoodbets Sports Market Review
Finally, we reach the conclusion of our Hollywoodbets review. The excitement of sports betting at an online bookmaker may be determined by the quality and number of sports on offer.
Hollywoodbets offers a variety of games to bet on, including over a dozen sports titles. Soccer and Horse Racing are the most well-known options. Rugby and Cricket are two of the most popular sports in the world. Basketball, Bowls, Boxing, Cycling, Darts, Handball, Ice Hockey, MMA (Mixed Martial Arts), Motorsport, Snooker (pool billiards), Table Tennis , and Volleyball are all represented among the list of sports available at Hollywoodbets.
You'll notice that there are a number of both extremely popular and surprisingly obscure games accessible here. nSingle, Accumulator, and System wagers are all available for each of these betting markets.
Special offers and Bonuses on Hollywoodbets
promotions are abundant at Hollywoodbets. Bettors who want to wager on horse racing will appreciate the fact that this new bookmaker offers a wide range of horse racing promotions to choose from. Best odds assurance and First past the post are two examples.
Bonuses are also available if your hours lose, while bonus bets are given out for some weeknd dar. Other specific offers and bonuses offered on the site include:
Soccer Mooney Back promotion. Refer a Friend promotion.

Soccer Bonus Bonanza.

Irish objection promotion.

predictor Games.

R25 Bonus for New players.
Hollywoodbets Mobile Site vs Desktop Site
There isn't any difference between laying or betting on mobile casinos and desktop sites. The colors purple and white dominate the mobile website version, which has an easy-to-navigate structure. You'll be able to access it from your mobile site's homepage by clicking a button.
There's also a link to the in-game area. If you prefer online casino games, you can visit the link to slotted casino games and live dealer casinos by subscribing to your favorite blog. Apart from that, you will find links to the Hollywoodbets Twitter feed, giggling tips, and the book's Promo. You may also reach out to the nameless customer support team via the low-left corner of the mobile phone platform. The same features are available on a wider display.
If you've been paying attention, you're probably aware how the gambling industry has grown to provide rewards to people even if they aren't awake. Yes, on both the mobile and desktop sites, you can earn such rewards. You may withdraw a portion of your steak before all of the games are completed with the Hollywoodbets App.
Gradibetting firm makes it possible for customers to use its mobile app to view live matches. You won't need a Hollywoodbets South Africa AK download to start using the service on your phone or desktop. Usually, you'll have access to the games you bet on, eliminating the requirement of watching them on television. To get started, all you need is your smart phone and internet data. This is a fun feature that Hollywoodbets South Africa mentionably provides. To begin utilizing the service, you don't need a Hollywoodbets South Africa app download. –
Hollywoodbets Promotions
Hollywoodbets does not only excel in the number of incentives it provides, but it also delivers a variety of methods to win. Depending on the draw chosen, players can win takealot coupons, bonuses, and stock reimbursements. Promotions are simple and straightforward, ensuring that customers have a better opportunity at winning big.
Vip Program Hollywoodbet
Unlike the rest of the international bookies, Hollywoodbets does not have a VIP club. Although it isn't secret, its prohibitively selective nature makes it difficult for anyone to join.
Hollywoodbet Customer Service
Hollywoodbets' contact information is listed below. A phone number, WhatsApp lines, email addresses, and social media accounts are all included..
Conclusion of Hollywoodbets
Hollywoodbets has been operating since 2000 and has already established its staying power. Hollywoodbets is recognized for providing its members with a wide range of special discounts, and you may discover more about them here.
If you're looking for a site that allows you to bet on a variety of sports, including football, horse racing, volleyball, and basketball, this is an excellent choice. They provide useful odds when wagers are placed so that winners may quickly reap big rewards.
When it comes to sports betting, we strongly advise you to use HollywoodBets. You'll discover a wide selection of deposit and withdrawal options at Hollywoodbets. Good luck!